Affordable Medicare Coverage
Find Medigap plans online now
About Medicare Gap
No need to visit multiple websites, see all of your options right here in one place.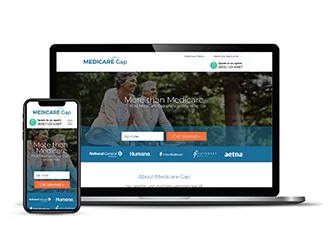 Compare multiple Medicare Supplement Insurance Plans
Agent support helps you find what you need
Get a quotes in minutes
Shop Medicare Plans in Your Area

Disclaimers: Plan availability varies by region and state. To request information without providing personal information, please call the phone number listed above. By completing the quotes form or calling the above number, you can be directed to a licensed insurance agent who can provide more information about your options and answer your questions via a third-party partner of MedicareGap. Participating sales agencies represent Medicare Advantage HMO, PPO, PFFS organizations that are contracted with Medicare. Enrollment in any plan depends on contract renewal. This is a solicitation for insurance, and the information is not a complete description of benefits or coverage options. We do not offer every plan available in your area. Any information we provide is limited to those plans we do offer in your area. Please contact Medicare.gov or 1-800-MEDICARE to get information on all of your options. Outside of the Medicare Annual Enrollment Period, members can enroll in a plan only if they meet certain criteria. A licensed insurance agent can help you determine whether you are eligible.